Available: Annual Report 2019
Our 2019 Annual Report is available for you to review.
---
Update: Grants Awarded

1. The Dudley Farm Museum received a $3,053 grant from The Guilford Foundation to support the development of the Museum's Interpretation Plan. The goal of this plan is to use the land, buildings and collections of the Dudley Farm Museum to explore the agricultural history of North Guilford, CT by developing an understanding of the operation of the Dudley family farm from 1870 to 1910, the roles/work of family members and the importance of farming in Guilford's past, present and future. We are very grateful for this support!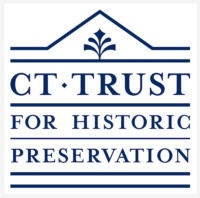 2. Grants were also received from the 1772 Foundation in cooperation with the Connecticut Trust for Historic Preservation to support our work on the Big Barn Project, as well as a grant from the Community Foundation for Greater New Haven to help fund the reconstruction of an icehouse and inclusion of public restrooms. These projects will add much to help us achieve our mission.
3. Thanks to a generous grant from the Summer Hill Foundation we will be able to complete several smaller projects this year at the Farm, including our reconstructed milk house and public restrooms.
4. The Dudley Foundation received a $5000 grant from the The Community Foundation for Greater New Haven which has allowed us to incorporate public restrooms into our newly (re)constructed ice house) .
---
The Dudley Foundation is a registered nonprofit with Amazon Smile. The next time you shop at Amazon.com please consider shopping through the Amazon Smile link and select The Dudley Foundation as your charity of choice. Visit Amazon Smile for more details.
Special Summer Exhibit
The Five Historic Museums of Guilford have planned a summer long exhibit at each of the museums entitled:
For Wee Folk: Toys and Miniatures for Children.
You are invited to visit each museum to see how views of children changed from 1639 to 1910. In an age before super-sized toy stores, pampered children, and helicopter parents, a new concept of a child's formative years began to emerge in 19th-century New England. There was an increasing awareness that "childhood" was an important time, separate from infancy, yet distinctly different from young adulthood and maturity. The view of children changed completely. No longer were they seen as infants or small adults with no in-between stage. The 19th century brought on the acceptance of a middle ground that all children go through where they are considered to be innocent as well as physically and mentally incapable of handling adult issues. Now children were seen as playful and cute and it was no longer acceptable to use physical punishment or soothing syrups such as opium to handle a child. Learn about the furniture, toys, games and activities of The Dudley Farm children from 1870-1910.
---
Update: Big Barn Project

Photo by Peter Hvizdak/New Haven Register
Phase I and Phase II of the Big Barn Project are DONE, and Phase III is almost completed ! Now on to the next project. As you know, money doesn't grow on trees (and we even planted money plants in an attempt to make more!) so donations to our project are gratefully received. Come by, look at our beautiful barn, gaze at our gardens—take a seat—maybe have a picnic. The Dudley Farm is a quiet space in this crazy world.
Click here for more details on The Big Barn Project.
Watch Connex Credit Union Video
---
Available:Voices from North Guilford
Over eight years in the making, the book Voices from North Guilford has been published and is available for purchase at The Dudley Farm Museum. Click here for details.
---
The Dudley Farm Organic Garden Group

The Dudley Farm Organic Garden Group is being revised. No new meetings are scheduled but if you are interested in this please email gardens@dudleyfarm.com
---