Available: Annual Report 2018
Our 2018 Annual Report is available for you to review.
Update: Grants Awarded
1. The Dudley Farm Museum received a $3,053 grant from The Guilford Foundation to support the development of the Museum's Interpretation Plan. The goal of this plan is to use the land, buildings and collections of the Dudley Farm Museum to explore the agricultural history of North Guilford, CT by developing an understanding of the operation of the Dudley family farm from 1870 to 1910, the roles/work of family members and the importance of farming in Guilford's past, present and future. We are very grateful for this support!
2. Grants were also received from the 1772 Foundation to support our work on the Big Barn Project, and also a grant from the Community Foundation for Greater New Haven to help fund the reconstruction of an icehouse and inclusion of public restrooms. These projects will add much to help us achieve our mission.
3. Thanks to a generous grant from the Summer Hill Foundation we will be able to complete several smaller projects this year at the Farm, including our reconstructed milk house and public restrooms.
The Dudley Foundation is a registered nonprofit with Amazon Smile. The next time you shop at Amazon.com please consider shopping through the Amazon Smile link and select The Dudley Foundation as your charity of choice. Visit Amazon Smile for more details.
Update: Big Barn Project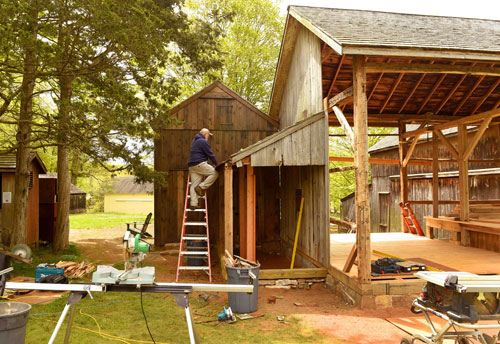 Phase I and Phase II of the Big Barn Project are DONE, and February will see the beginning of Phase III! Now on to the next part. As you know, money doesn't grow on trees (and we even planted money plants in an attempt to make more!) so donations to the project are gratefully received. Come by, look at our beautiful barn, gaze at our gardens—take a seat—maybe have a picnic. The Dudley Farm is a quiet space in this crazy world.
Click here for more details on The Big Barn Project.
Watch Connex Credit Union Video
Available:Voices from North Guilford
Over eight years in the making, the book Voices from North Guilford has been published and is available for purchase at The Dudley Farm Museum. Click here for details.
The Dudley Farm Organic Garden Group

The Dudley Farm Organic Garden Group is being revised. No new meetings are scheduled but if you are interested in this please email gardens@dudleyfarm.com
---