We look forward to seeing you "down on the Farm."
Upcoming Events at The Dudley Farm
The Dudley Farm Museum continues to plan events of interest to our members.  For updates, please check our Facebook page (https://www.facebook.com/dudleyfarmmuseum) and our website (https://dudleyfarm.com/).
——————————–
New Granary Exhibit is open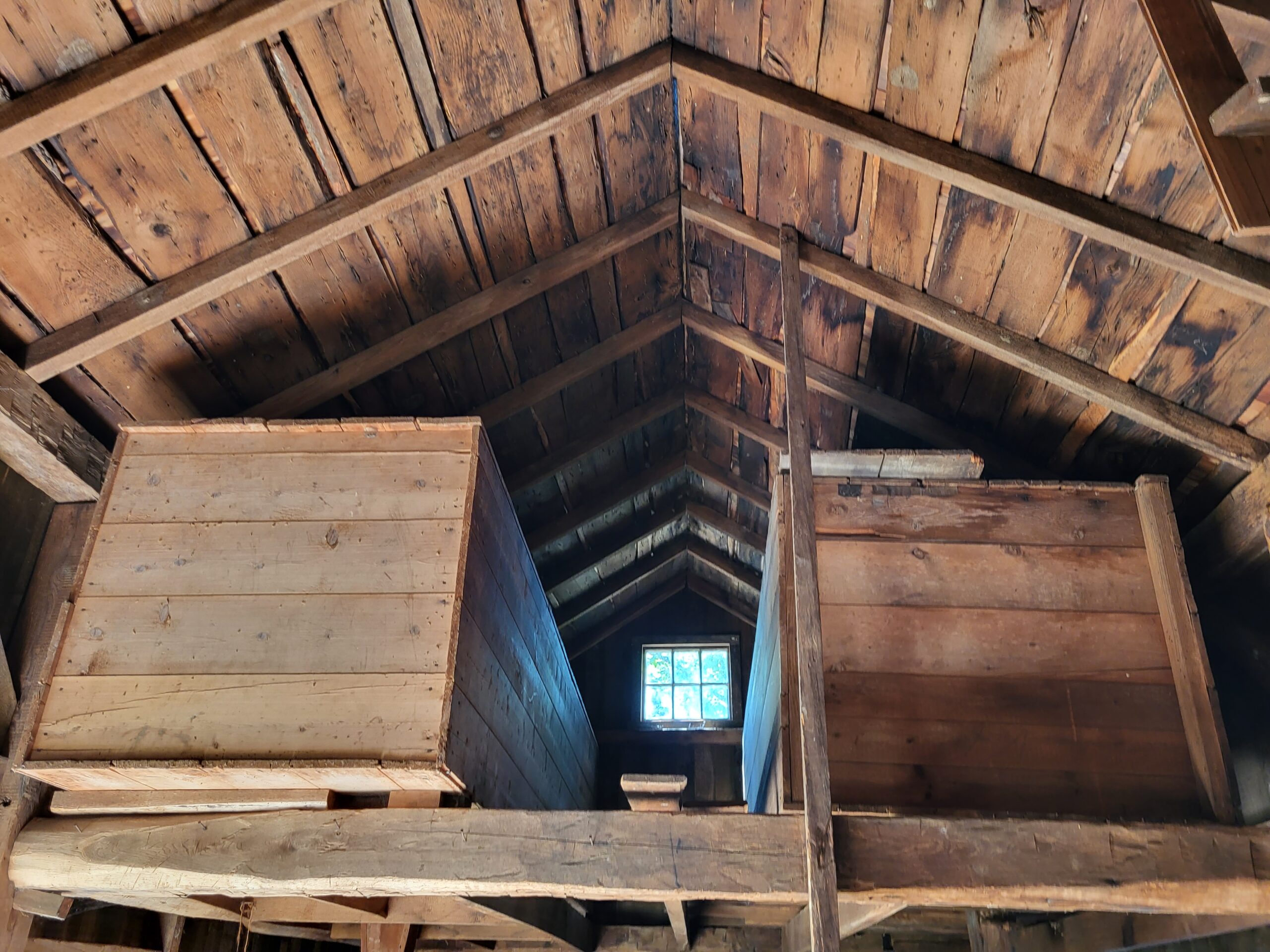 This project was made possible though Museum Makeover, a program of Conservation ConneCTion and the Connecticut League of History Organizations with a grant from the CT Cultural Fund, administered by CT Humanities. Learn how the "food pantry for the animals" stored the food needed for all the Dudley Farm animals.
—————————————————————————————
Rug Braiding Worskhop returns!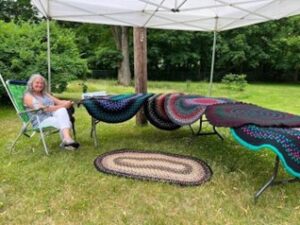 In the early 1800s, New England became a center for woolen fabric mills making wool cloth readily available to New Englanders. Soon leftover scraps and worn-out clothing was used for making rugs. Braided woolen rugs became preferred to braided straw mats because they were not only more durable and prettier. They remained popular because they were far more affordable than commercially made carpets.
Teri Stratton will be returning for another rug braiding workshop March 25th and 26th.  Give the Farm a call (203-457-0770) and we will fill you in on details.
$135 a day for non-members, $110 for members.
—————
Maple Sugaring on the Farm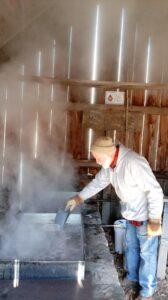 Maple sugar has been a part of American history since before Europeans settled in the colonies. Native Americans even have legends about how maple sugar was discovered. The story has it that Chief Woksis of the Iroquois found the sweet (syrup) when he threw his tomahawk at a maple tree in the cold of winter. The next day, the sun warmed the sap inside the tree, and from the hole sprung forth the tasty syrup. Woksis's wife cooked their meat in the sap, and it was so delicious that the natives began to make maple sugar a part of their lives.
Early Guilfordites were making maple syrup from the time they arrived and many still do. Come visit the farm during the last two weekends in February and first weekend in March to see how it's done. This is very weather dependent, so be sure to look for the sign at the entrance to see if sugaring is happening.
———————-
Early Spring Wildflower and Plant Walk with Lauren Brown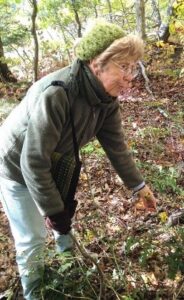 As an early celebration of Earth Day, we plan to walk the trail adjacent to the Farm to locate and identify native plants Saturday April 15th with a rain date of the 16th. We are very fortunate to count botanist and author Lauren Brown as a Foundation member. Updated information will be available on our Facebook page as well as through our email, Dudley Farm Doings. While the event is free, advanced registration is requested.
Hook a Rug with Michele Micarelli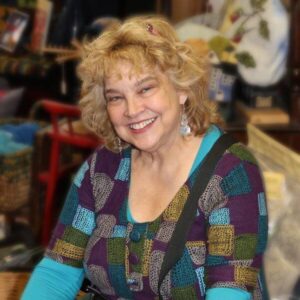 Michele Micarelli returns to The Dudley Farm for another 3-day workshop April 16, 17, and 18th.  Michele is a certified rug hooking teacher whose main objective is to unleash creativity. She is known for her casual, open and warm manner. Her classes are full of storytelling, imagination exercises, and laughter.  Her "first rule" in rug hooking is that there are NO rules. Call or email The Dudley Farm for more information
Tag sale: April 30, rain date May 7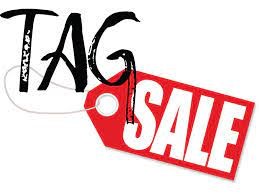 Looking for gently used "stuff"? or maybe you have treasures to sell? Our next Tag Sale is Sunday April 30th with a rain date of May 7th from 10 AM to 2 PM. Want to rent space? Give Jerri Guadagno a call at 203-457-0047.
Learn the old craft of basket making with Donna Lowell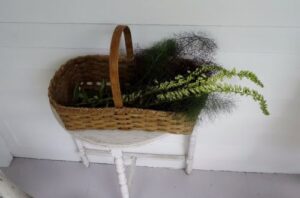 If you've ever attended The Dudley Farm Farmers' Market you've seen the lovely baskets made by North Guilfordite Donna Lowell. Watching her work you see that she can readily whip up a classic New England style basket – and she enjoys teaching the craft to others. "I teach children, adults – anyone who thinks it would be fun to learn."  Donna weaves her magic in her home studio in North Guilford. We're happy to have her provide this beginners' class for adults Saturday morning May 6th from 9 AM to 1 PM. Call or email The Dudley Farm for further information or subscribe to Dudley Farm Doings for updates. Cost to be determined.
Celebratory Brunch May 21st
It's back!  Enjoy good friends, good company, good food while celebrating the recent accomplishments of The Dudley Foundation. Take a look at our granary exhibit as well as The Dawnland Quinnipiac Museum. We're also planning to have a new Milkhouse exhibit completed for viewing at that time thanks to a generous donation from the Bishop family. And oh, by the way…after two years of research and work  (thanks to Covid slowing things up), The Dudley Farm is now listed on the National Register of Historic Places!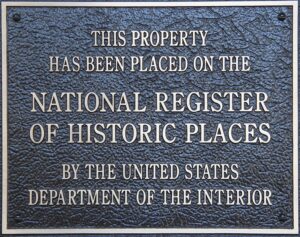 So let's celebrate!
Please check often for updates!

There's always something happening at The Dudley Farm.  Keep up to date by checking our website and Facebook page .  
————————
Looking for an outside activity for yourself, friends, or family?
Why not take a self-guided tour of The Dudley Farm grounds.  Select an area of interest to visit or start in the beginning and spend 30-40 minutes exploring all we have to offer. The walking tour guide and associated aerial map are available here:
You are welcomed to call to arrange for a personal tour of our Farmhouse and learn more about the people who lived here.   We always enjoy having visitors "down on the Farm."
All Events are Subject to Cancellation