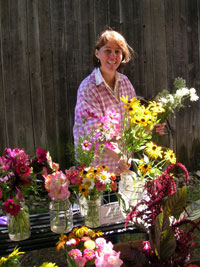 The Dudley Farm Farmers' Market is unique, because it is not run solely as a commercial enterprise. The Farmers' Market not only reflects an old-time practice of selling produce at a roadside stand, it also provides an opportunity to build a community of supporters who return again and again to the Dudley Farm. People can purchase produce, home baked goods and handcrafts, they can bring their children to visit the livestock and romp on the hillside, visit exhibits in the Farmhouse Museum, attend workshops, listen to music, or just come to have a cup of coffee and visit.
Vendors are encouraged to view their time at the Farmers' Market in this light. That is, they should be willing to share their knowledge of producing the items they are selling including, but not limited to, organic farming and gardening, handcraft production, materials, methods and inspiration.
Take a Look at Our Farmers Market and Click The Video Below
Locally Grown & Produced Foods
Local Artisans & Crafters
All produce at the market must be grown in the state of Connecticut by the vendors. All crafts must be made by the craft vendors.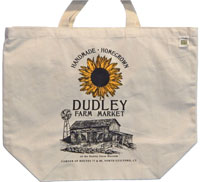 If you wish to become a vendor, please email the market manager at market@dudleyfarm.com , and include photos of whatever you wish to sell, or make an appointment to show your goods to Katrina and Steve.