1. When are you open?
We are open for museum tours June through October, Thursday and Friday from 10 AM to 2 PM, Saturday from 10 AM to 2 PM, and Sunday from 1 PM to 4 PM. Our Native American "Dawnland" Exhibit may be viewed June through October, by chance or by appointment. Please call the museum office 203–457–0770 to schedule an appointment.
2. What is the Cost of Admission?
Members and children under 16 are admitted free of charge. It is suggested that adults make a donation of $5.00.
3. Where are you located?
Our address is 2351 Durham Road, Guilford, CT on the north-east corner of Route 77 and Route 80.
4. What about parking?
We have plenty of free parking for visitors next to the farmhouse, with more parking available in the adjacent parking lot.
5. What can I do at your museum?
Summertime is the busiest season at The Dudley Farm Museum with the farmhouse open for tours, gardens being tended, and The Farmers' Market in full operation. However the farm does remain active year round with chickens and hopefully other livestock in the future. Visitors may watch as fresh eggs are collected from the hens.  Maple sugaring does occur seasonally. Available year round, the hiking trails at the farm that connect to Guilford Land Trust trails offer a unique opportunity to enjoy the grounds in the quieter fall and winter months.
6. Is your museum accessible to visitors in wheelchairs?
At this time we do not have wheelchair access. We are sorry for this inconvenience.
7. Can we hold our event (business meeting/birthday party/wedding/family reunion) at the Museum?
The Munger Barn is available for rent for celebrations and meetings. Please feel free to email [email protected] or call 203-457-9768 for more information.
8. Are we allowed to take photographs and make videos in your museum?
Of course. You'll find many beautiful areas to take pictures for your personal use and we'd love if you tag your favorite shots on Facebook. Commercial photographers will be asked to pay a site fee. Photographers please contact us to discuss your shoot before visiting.      Click Here to See policy…Policy
Click Here for Photography Form…Form
9. What about food and drink?
We have several picnic tables available for your use. So come spend some time on the Farm, pack your lunch, and enjoy a trip back to the late 19th Century. In order to protect our collections food and drink are not allowed within the buildings.
10. Is this a family-friendly museum?
Yes! Children of all ages enjoy the animals, while visitors "of a certain age" enjoy remembering their grandparents (or great-grandparents!) home.
11. What's going on that's special at the Museum?
Please click here to check the Museum's calendar of events to see what's going on and what's coming up.
12. How do I schedule a group tour?
Groups with 5 or more people are encouraged to make a reservation to assure that we can make your group tour memorable. Please contact the museum office (203-457-0770) or email [email protected] at least 2 weeks in advance so that we may better plan your visit.
13. Do you have meat or animals to sell?
Ah – while we have farm animals here, they get to simply enjoy the ambiance. However, meat and eggs are available for purchase at our Farmers' Market.
14. When is the Farmers' Market open?
The Farmers' Market is open every Saturday morning from 9:30 AM to 12:30 PM, June through October as weather allows. Additionally, there is a Winter Farmers' Market held as the weather allows.  A Holiday Market is also held the first 2 weekends in December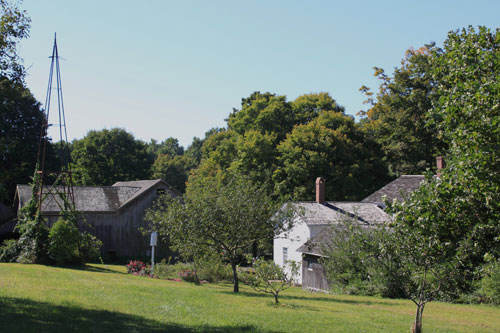 .