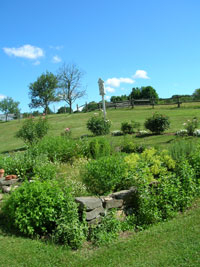 The Herb Garden, shown in these  photos, was designed and planted in 1997. The garden contains many varieties of herbs commonly found in gardens in the late 1800's and is anchored by a an antique millstone in the center.
Volunteers have lovingly maintained the garden, located just east of the farm house. In addition to spring and fall clean up, weeding chores during the growing season, the plants in the herb garden need to be dug up and divided periodically to ensure healthy growth. This year the herb garden is in need of a major rehabilitation, involving digging and dividing plants and adding new plants.  If you are interested in this project, please respond at gardens@dudleyfarm.com  or phone the Dudley Farm at 203-457-0770.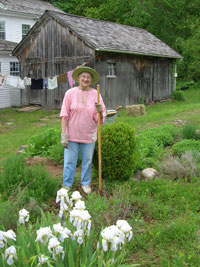 This is a fragrant and rewarding job in a lovely setting!