Locally Grown & Produced Foods
Portia Amendola , Mostly Nuts by Back Roads LLC, Northford, CT Decadently delicious nut and seed blends you can enjoy and feel good about. Follow on Instagram @mostly_nuts
Bitta-Blue Farmstand: 228 River Road, Killingworth 860 663 2428
Visit www.bittabluefarm.com to see available products and place orders for pick up at the Saturday Markets
Sue Canavan, Susie C Gift Baskets, Branford, CT Various dark chocolate barks, biscotti, berry coffee cakes, and peanut butter bars. We also make gift boxes for special occasions. www.SusieCGiftBaskets.com
Yeimi Carreto & Teresa Ortiz, Yummy Chic Fruits, Durham, CT Fruit drinks and smoothies made with fresh fruits and vegetables as well as fresh fruit cups in two sizes. 203-503-4034 (Teresa)
Kathy Duffy, Sweet Sage Bakery, Rockfall, CT
Handcrafted organic breads made with homegrown starter. Also gourmet scones, muffins, bars and cookies using the finest and freshest ingredients and certified organic flours from northeast growers.
www.sweetsagebakery.com
Peter Giannopolus, Nick's Place Restaurant of Madison 200 Boston Post Rd, Madison 203-245-0433 Cooking breakfast and lunch on the farm every Saturday from 9 am-12:30. Follow them on Instagram @nicksplacerestaurant
Peter Giannopoulos and Annie Carl, Papa Spyros Olive Oil, North Branford, CT Extra virgin olive oil we make yearly from our own olive trees in Greece; natural body lotion from olive oil; cutting boards. papaspyrosoliveoil@yahoo.com . 203-623-6485
John & Barb Hammarlund, Half Mile Acres, North Guilford, CT
Our own naturally raised USDA beef, sausage, eggs; our own farm raised roasting chickens when available. Homemade maple walnut fudge and chocolate raspberry fudge (weather permitting.)203-214-4256 .
hmacres201@gmail.com
Nicholas Imbriglio,Passionately Pasta 177 East Main Street Wallingford 203-675-6530 Handmade/hand shaped artisanal pastas (frozen or dried) using local eggs, grain, cheese, veggies, and meat when available. Follow him on Facebook and Instagram @passionatelypasta
Bridgette Marshall, Oh Fudge and More LLC, Higganum CT Local small batch artisan fudge and specialty chocolateswww.ohfudgeandmore.com On Facebook and Instagram @ohfudgeandmore
Al Kostuk, Pisgah Mtn. Primitives, Durham, CT Kettlecorn and great stories!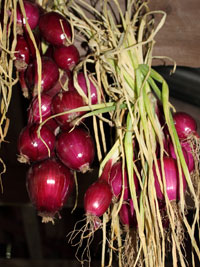 Buster Scranton, Maple Grove Farm, Guilford, CT
Sweet corn, maple syrup and candy, Indian corn, popcorn on the cob, and seasonal vegetables.
Julie, Silver Thistle Farm & Cheesery, East Lyme, CT A wonderful variety of cow and goats milk cheese products including mozzarella, burrata, gouda and many flavored varieties of goats milk cheese. pre-order at Silverthistlefarm.square.site
Donna Terrell, Meadow Walk Farm, Cheshire, CT
Unique Jams, Vegetables and Cut Flower Bouquets
---
Local Artisans & Crafters

Mary Jane Breault, MJ'S Custom Jewelry, Higganum, CT Jewelry that can be worn every day using source material from all over the world. Every piece has a story. mjbejeweled@comcast.net 860-918-1759
Alexis Brown, Heliotropic Gardens 203-675-0076 Plants, perennials, shrubs, custom artworks. Follow her on Instagram @heliotropic_art
Janet Dudley, Floral and Wool Crafts, Guilford, CT Fresh seasonal flowers; blankets, scarves, dryer balls and felted soaps made from the Dudley family sheep's wool; wreaths and other floral crafts; and bird houses. jcdandmtd@hotmail.com 203-453-6760
Wade Elmer, Elmer's Acres, Wallingford, CT Cut Flowers and local honey.Wade.Elmer@comcast.net
Anita Fraser, Neetz Rocks, Guilford, CT
Variety of painted rocks from small to extra large, and special order.
anitaf0604@yahoo.com 203-430-4964
Carol Gilbert, Double "G" Alpacas, Portland, CT
Hand spun alpaca yarn, double and triple plied, along with alpaca farm hats, animals needle-felted from merino wool, and other items.
gigigilb@aol.com • www.doublegalpacas.com
Johannan & Chris Kilpatrick, Artistic Vision Studio, Guilford, CT Handmade sterling silver and copper jewelry. Luminary lanterns made from recycled tin cans. Yohannanzahav@gmail.com
Donna Lowell, Thimble-Reed Bountiful Harvest Farm, Guilford, CT Pure beeswax candles, blackened beeswax, handcrafted baskets. organic eggs, organic cat toys. 203-457-0033
Jennifer Mesite, Sugar Bee Candle, Meriden, CT Soy wax candles in a variety of Jars/Tins and sizes
Liz, Rick & Kim Rinaldo, Flatbrook Farm, East Hampton, CT Goats milk soaps in a large variety of scents made from the milk of our show quality Toggenburg goats.flatbrookfarm.webs.com
Steve Rowe – Upcycled Firewood Chester CT
Using only hand tools, in late 19th century tradition – Typically an Ax, saw and knives to whittle – Steve creates one of a kind functional art from what would have been firewood. Spoons, cups and other useful wooden-wares that bring more nature into your eating and living experience. Follow him on Instagram @scratchpadmakes or contact scratchpadmakes@gmail.com to inquire about commissioned work or individual instruction.
Beth Rowell, Balmz Away, Guilford, CT
A local company that creates all natural homemade skin care products. We handcraft lotion bars, pain relief and bug repellent balms, sugar scrubs and a variety of lip balms.
balmzaway@outlook.com 203–640–5097
Paula G. Smith, PGS Designs, Meriden, CT Offering a variety of jewelry designs; earrings, brooches & bracelets/cuffs all created from repurposed and vintage metals. Mixed Media pieces combining metals, woods, brown stoneware & glass (suitable for exterior use and as home decor items are also available. pgs611@gmail.com Follow on Instagram @pgsdesigns
Mark Weaver, On Site Landscapes, Branford, CT
Art work, benches and birdhouses
203–488–6464
Vendor attendance can vary throughout the season. The list of vendors will be updated as additional information is submitted.
Market Manager
2020 brings a new team to the Market Manager position, Katrina Bonvini and Steve Rowe. This dynamic duo bring a passion for locally grown foods and handcrafted artisanal products. Though not farmers, their combined 60 plus years in food service, retail, marketing, and management bring an incredible tool set to manage and grow the Dudley Farm Farmers market. Both are creative makers and nature lovers understanding that handcraft is the path to inner peace and harmony. Steve also brings 15 years working in the health and fitness industry prescribing real food via local farm markets as the solution to his clients health issues.