HOMEGROWN
Kathy Duffy, Sweet Sage Bakery, Rockfall, CT
Handcrafted organic breads made with homegrown starter. Also gourmet scones, muffins, bars and cookies using the finest and freshest ingredients and certified organic flours from northeast growers.
www.sweetsagebakery.com
Peter Giannopoulos and Annie Carl, Papa Spyros Olive Oil, North Branford, CT Extra virgin olive oil we make yearly from our own olive trees in Greece; natural body lotion from olive oil; cutting boards. papaspyrosoliveoil@yahoo.com . 203-623-6485
John & Barb Hammarlund, Half Mile Acres, North Guilford, CT
Our own naturally raised USDA beef, sausage, eggs; our own farm raised roasting chickens when available. Homemade maple walnut fudge and chocolate raspberry fudge (weather permitting.)203-214-4256 .
hmacres201@gmail.com
Alex Lowry, Leap Frog Farm
Salad greens and seasonal vegetables
alexleapfrogfarm@gmail.com • 203-843-8662
Lisa & Rob Ostop, Hometown Bakery, Madison, CT
Locally owned and operated bakery specializing in handcrafted, fresh baked breads, pastries and large cookies. Breads include Cinnamon, Cardamom, 7-grain and others.
hometownbakery@comcast.net • www.hometownbakerymadison.com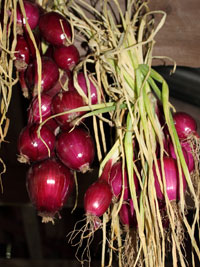 Buster Scranton, Maple Grove Farm, Guilford, CT
Sweet corn, maple syrup and candy, Indian corn, popcorn on the cob, and seasonal vegetables.
Patty Mackenzie and Toni Schiano, Lakeside Farm Stand, Guilford, CT
Pies, pastry, specialty breads (gluten free, dessert,)and other baked goods, wraps, and butter.
lakesidefeed@comcast.net • 203-457-0152.
Donna Terrell, Meadow Walk Farm, Cheshire, CT
Fresh weekly selections from the farm: seasonal vegetables, cut flower bouquets, occasional dried arrangements and specialty products.
Maria Quiroga Varela, Guasa Salsa VZLA, Norwalk, CT.
Salsa homemade in small batches from all natural ingredients, in mild, hot, and very hot, from a treasured Venezuelan recipe.
203-981-7011 • mwrrz01@att.net
Susan Willis, Bitta-Blue Farm, Killingworth, CT
Seasonal organic fruits and vegetables, eggs (duck and chicken), jams and pickles, goats milk soap and lotions.
www.bitta-bluefarm.com
---
HANDMADE

Ashley Amendola, Polymer Clay Sculpture, Northford, CT
Handmade polymer clay dragons, figurines and other objects.
Portia Amendola & Margaret Rozear, Back Roads LLC., Northford, CT
Inspired by traditional quilt blocks, hand-painted home decor and accessories made from repurposed wood.
backroadsmail@gmail.com
Lee Burkhardt, Wood sculptor, Branford, CT
Award winning painted, embellished and carved wood, barkwood and driftwood sculptures, lately mermaids. Miniature pet portraits painted to order.
leeburkhardt@comcast.net
Deborah DeLillo, Northford, CT
Recycled wine bottles made into bird feeders, hummingbird feeders, hummingbird swings. Bee houses for mason bees, bird houses. homesforbirdsnbees@gmail.com
Janet Dudley, Floral and Wool Crafts, Guilford, CT Fresh seasonal flowers; blankets, scarves, dryer balls and felted soaps made from the Dudley family sheep's wool; wreaths and other floral crafts; and bird houses. 203-453-6760 • jcdandmtd@hotmail.com
Anita Fraser, Neetz Rocks, Guilford, CT
Variety of painted rocks from small to extra large, and special order.
203-430-4964 • anitaf0604@yahoo.com
Carol Gilbert, Double "G" Alpacas, Portland, CT
Hand spun alpaca yarn, double and triple plied, along with alpaca farm hats, animals needle-felted from merino wool, and other items.
gigigilb@aol.com • www.doublegalpacas.com
Martha Haeseler, Market Manager, Martha's Favorites, Guilford, CT
Felted, knitted and sewn accessories, jewelry, baby gifts, soap, sachets, hand-painted clothing, plants, succulent gardens, and seasonal vegetables.
203-988-9667 • martha.haeseler@comcast.net
Alexander Kostuk, Pisgah Mountain Primitives, Durham, CT
Kettle corn
860-349-3793 • ackostuk123@att.net
Donna Lowell, ThimbleReed, North Guilford, CT
Handmade baskets, beeswax candles, blackened beeswax, organic free-range organic eggs.
thimble_reed@yahoo.com
Karl Nollenberger, KTN Stumps, Durham, CT
Wooden bowls, platters, spoons and cups hand carved from wood salvaged from tree stumps. Also copper cups, wooden slabs, and custom cut lumber.
nollenbergerkarl3884@gmail.com • 203-824-8389
Sharon Packevicz, Branford, CT
Quilted runners, gift bags, appliquéd wine bags and towels, coasters, bibs, corn bags, seasonal decorative items. 33fromtheheart@gmail.com
Tricia Raccio, Ornaments by Tricia, Northford, CT
Hand-painted ornaments, glassware, windows, rocks, and fairy items. Stop by to see the exquisite set of wedding ornaments and unique sets of toasting flutes.
ornamentbytricia@aol.com
Liz & Rick Rinaldo, Flat Brook Farm, East Hampton, CT
Rich and nourishing goat milk soap made with the milk from the wonderful dairy goats that live on Flat Brook Farm and miscellaneous bath products
860–267–9153 • eflatbrook@sbcglobal.net
Jayne Franzino Romero, Paintings, Guilford, CT
Original paintings; Acrylics or oils on canvas or board.
jayne5601@yahoo.com • 203-940-0967
Beth Rowell, Balmz Away, Guilford, CT
A local company that creates all natural homemade skin care products. We handcraft lotion bars, pain relief and bug repellent balms, sugar scrubs and a variety of lip balms.
203–640–5097 • balmzaway@outlook.com
Nancy Scilipote, Decorative and Functional Pottery, Northford, CT
Pottery thrown and hand-built, with many one-of-a-kind pieces. All gazes are food-, microwave-, and dishwasher-safe.
203-484-9859 • scilipoten@gmail.com
Mark Weaver, On Site Landscapes, Branford, CT
Art work, benches and birdhouses
203–488–6464
VISITING VENDORS

Mary Jane Breault, MJ'S Custom Jewelry, Higganum, CT Jewelry that can be worn every day using source material from all over the world. Every piece has a story. mjbejeweled@comcast.net . 860-918-1759
Nate Bryant, LemoNates, Guilford, CT
Lemonade and limeade, fresh-squeezed to order, with optional additives such as strawberries, cherries, mint and basil. Iced tea and seasonal cider and cocoa.
203-376-3920 • LemoNatesvending@gmail.com
Lisa Herring, For His Glory, Brooklyn, CT
Wooden signs and other country home decorations.
isntgodawesome@aol.com • 860-367-7501
Johannan Kilpatrick, Artistic Visions Studio by Chris and Johannan, Haddam, CT Handcrafted copper and sterling silver jewelry, original designs since 1971. Lanterns and candleholders made from recycled tin cans. yohannanzahav@gmail.com
Gregory Muenker, Hot Monkey Nuts, Madison, CT
Spicy artisanal peanuts, available in 9 bold flavors and counting.
greg@hotmonkeynuts.com • 203-318-4281 • www.hotmonkeynuts.com
Cynthia Prahovic, Originals, Branford, CT
Original designed fleece hats for women and children, plus novelty gift bags, the perfect covering for your gifts.
designercrp@aol.com • 203-481-2058
Rick Rottner, Rotters Potters, Glastonbury, CT
Handmade wheel thrown stoneware ceramic pottery.
fkmdj@cox.net • 860-416-8545 • www.rotterspotters.com
Vendor attendance can vary throughout the season. The list of vendors will be updated as additional information is submitted.
Market Manager
Martha Haeseler brings to the Market Manager position her passion for nature and gardening, and her experience as an artisan, Dudley Farmers' Market vendor, and director of a program at the VA Medical Center. Her hope is to grow the market, through community networking and publicity, so that more people are aware of the stellar organic produce and handcrafted products of our local farmers and artisans.