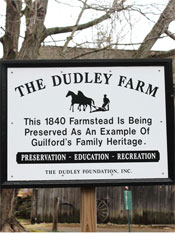 The Dudley Farm was built in 1845 by Erastus Dudley, a prosperous North Guilford farmer, gristmill and tannery owner. Today, the house, barns and surrounding ten picturesque acres occupy a portion of the land farmed by the Dudley family for almost 300 years. After David Dudley's passing in 1991, the North Guilford Volunteer Fire Company, in cooperation with the North Guilford Congregational Church and the Town of Guilford Probate Court, obtained the Farm property. Lamenting the disappearance of farm life in the face of the rapid development of the late 20th century, the Volunteer Fire Company decided to establish a farm museum to preserve the region's agricultural heritage. Thus was born the Dudley Foundation, a nonprofit, member supported organization that maintains, through the work of volunteers, the Dudley Farm as a late 19th century farm museum. The restored farm house, barns and grounds allow visitors to experience life as it once was.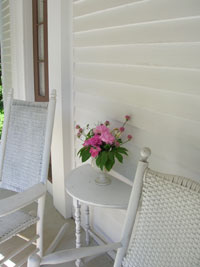 Tours of the farm house introduce visitors to life in the late 19th century through its rooms and furnishings while stories of the home's inhabitants and the lifestyle of the time bring the past alive. The barns and out buildings, with displays of tools and farm equipment, and animals representative of the period, give a unique glimpse into life and work on a family farm. The grounds of the Dudley Farm include period flower and herb gardens, a farm garden, cropland, meadows and woods which all evoke a gentle sense of the past.
Mission Statement
To preserve, restore and operate The Dudley Farm Museum as a late 19th century historical, educational and recreational resource to serve the general public.

Vision Statement
The Dudley Foundation will provide leadership to the greater community in the promotion of historic awareness and interpretation of the history of the North Guilford community.